What Happened: Rep. McCarthy ousted as Speaker of the House
What does It Mean: For the first time in US History, the Speaker of the House was ousted through a no-confidence vote by peers. This historic action came shortly after Congress passed an 11th hour budget resolution to avoid a government shutdown. The resolution gave Congress an additional 45 days in operation before having to face the fiscal discussion again in November. Many Republican Congress members were not pleased with the additional funding for Ukraine and lack of budget cuts in order to strike the deal. McCarthy was viewed by many as having conceded far too much and as a result was voted out as Majority Speaker.
Why do we care? Normally we wouldn't, however, in our opinion, the US debt issue directly correlates with our current interest rate issues which is wreaking havoc on the stock market. The world is observing our government closely and how they handle our debt and fiscal deficit is directly impacting their desire to buy our bonds and finance our operations.
When US debt is in high demand, the US does not have to offer high rates. However, if it is not in high demand, the rates must increase to attract buyers. One of the by products of this most recent political disarray has been a swift increase in longer dated treasury rates and in our opinion one of the primary reasons for stock weakness.
Furthermore, we think the 45-day negotiated stay increases the odds of another shutdown in November.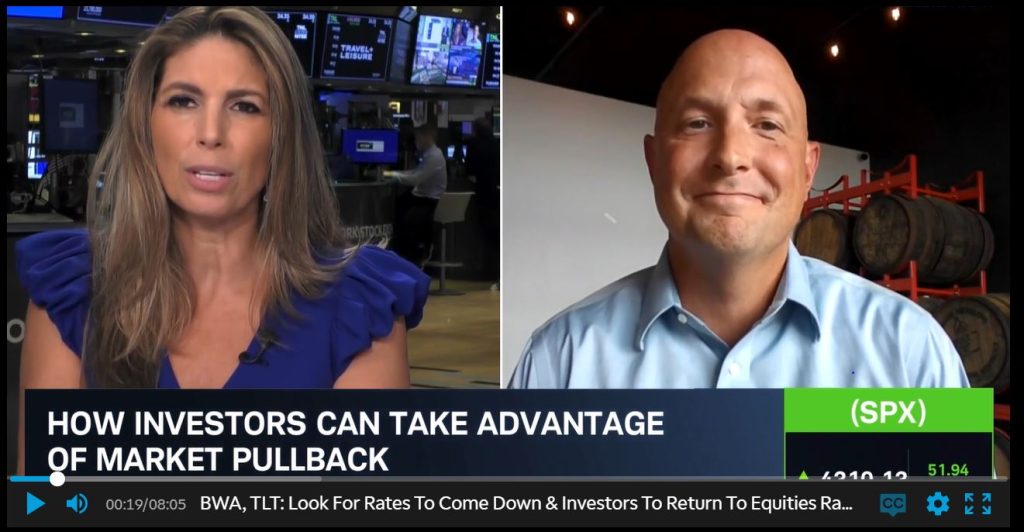 Quint sits down to discuss Friday's market action. Click to watch
What Happened: US Jobs data shows strong increase, lower hourly wage increase.
What does It Mean: Folks are headed back to work. It's pretty clear that stimulus checks have run out and now that student loans must be paid back, folks are headed back to work. Estimates for the month of September were for 170,000 new jobs when the report came in at a resounding 336,000. Ironically, the average hourly earnings, which were anticipated to be up by 0.3% were only up 0.2% indicating that job openings are being filled at a rapid pace and not mandating increasingly higher wages.
Why do we care? Markets initially sold off on the news, since strong jobs data insinuates higher inflation and thus further Fed action, however. Remember, higher rates, lower stocks. We view this report quite a bit differently and continue to believe this market pullback offers opportunity over warning.
The data is clear in that folks are headed back to work and jobs are being filled at a rapid pace however no longer is it mandated for a business to pay an exorbitant amount to attract these workers. The data suggests that folks are headed back to work due to need which we suspect has to do with stimulus being gone and student loan payments re-starting. Rather than inflationary, we view this as directly the opposite. It's too early to tell how the Fed will feel about this, however the markets quickly understood the near-perfect report suggesting we're seeing a softening labor shortage without having to increase wages and stocks traded higher to end the week.
Until next time
~ Quint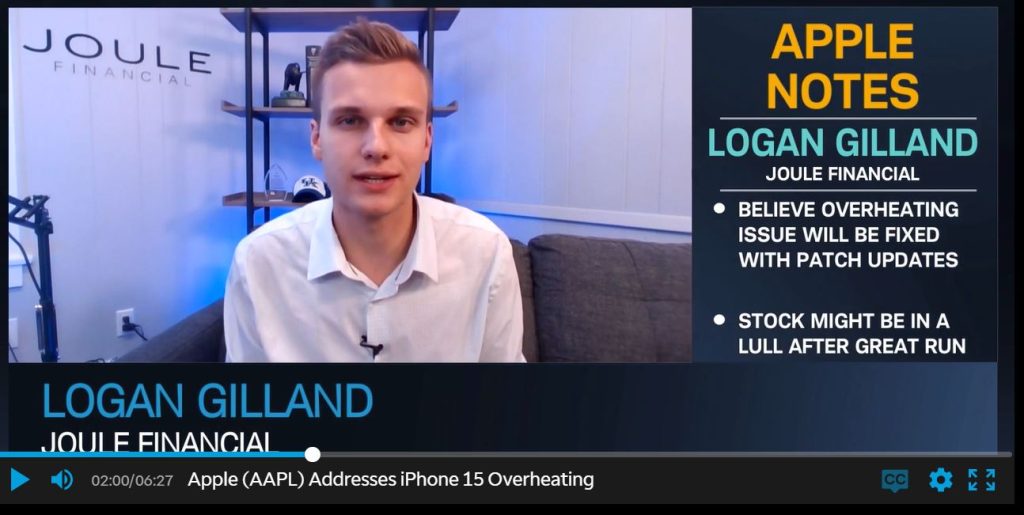 Logan sits down to discuss Apple and the general market – Click to watch
Did you know? Joule works with clients all throughout the United States. With our process of utilizing technology and online planning portal, there is no geographic limitation to whom we can help. If you need a second opinion or want to explore what an advisory relationship with Joule would look like, review more info on our site and we'd be happy to discuss your current situation.
Disclosures
Joule Financial, LLC is registered as an investment adviser with the SEC. The firm only transacts business in states where it is properly registered, or is excluded or exempted from registration requirements. Registration as an investment adviser does not constitute an endorsement of the firm by securities regulators nor does it indicate that the adviser has attained a particular level of skill or ability. A copy of Joule's current written disclosure brochure filed with the SEC which discusses among other things, Joule's business practices, services and fees, is available through the SEC's website at: www.adviserinfo.sec.gov
This does not constitute an offer or solicitation. This information should not be considered investment advice. Opinions expressed reflect the judgment of the author and are current opinions as of the date appearing in this material only. While every effort has been made to verify the information contained herein, we make no representations as to its accuracy and it should not be regarded as a complete analysis of the subjects discussed. Past performance does not predict future results. Content should not be construed as legal or tax advice. Always consult an attorney or tax professional regarding your specific legal or tax situation. All investing involves risk, including the loss of some or all of your investment.
Certain information contained herein constitutes "forward-looking statements," which can be identified by the use of forward-looking terminology such as "may," "will," "should," expect," "anticipate," "project," "estimate," "intend," "continue," or "believe," or the negatives thereof or other variations thereon or comparable terminology. Due to various risks and uncertainties, actual events, results or actual performance may differ materially from those reflected or contemplated in such forward-looking statements. Nothing contained herein may be relied upon as a guarantee, promise, assurance or a representation as to the future.
Hyperlinks in this letter are provided as a convenience, and we disclaim any responsibility for information, services or products found on websites linked hereto.