What Happened:
Consumer Price Index (CPI) comes in lower than anticipated. Stocks continue their run.
What Does It Mean:
Each month the Bureau of Labor Statistics produces a report measuring month over month and year over year price movement across a variety of areas within the US economy. Expectations were for a .01% monthly increase with an annualized inflation rate of 3.3%. The report came in with month over month prices flat at 0.0% while the annualized rate was 3.2%. Energy as a whole declined by 2.5% led by Gasoline, which was down 5% for the month.
Why do we care?
While not the only indicator used by the Federal Reserve to measure inflation, the CPI is the most widely known and understood inflation measurement. The better than anticipated report provided further evidence that the Fed may in fact be done hiking interest rates. Interest rates fell on the news, prompting further upside for stocks.
What Happened:
Investors pour trillions into Money Market funds.
What Does It Mean:
Despite the recent stock market advance, the allure of higher yields and market uncertainty has lured investors to move more money into the safety of money market accounts than any time in history as seen on the graph below.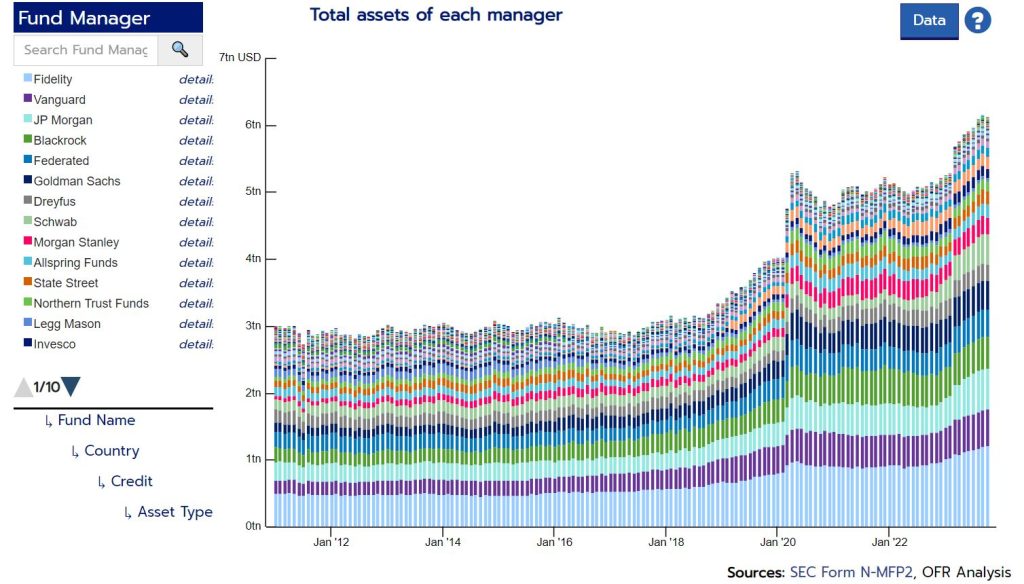 November 17, 202
Why do we care?
I'm often asked how I can remain so bullish on stocks. Well, it's hard for me to get my mind around the idea that the trillions of dollars seeking refuge in money market safety will in-fact be correct on their preferred investment selection. When I see such a massive movement in one direction, it is my nature to look the other way. While stocks will certainly have fits and starts along the way, the amount of money on the sidelines with the ability to move quickly back into stocks, is higher than we've ever seen before.
Until next time
~ Quint
Disclosures
Joule Financial, LLC is registered as an investment adviser with the SEC. The firm only transacts business in states where it is properly registered, or is excluded or exempted from registration requirements. Registration as an investment adviser does not constitute an endorsement of the firm by securities regulators nor does it indicate that the adviser has attained a particular level of skill or ability. A copy of Joule's current written disclosure brochure filed with the SEC which discusses among other things, Joule's business practices, services and fees, is available through the SEC's website at: www.adviserinfo.sec.gov.
This does not constitute an offer or solicitation. This information should not be considered investment advice. Opinions expressed reflect the judgment of the author and are current opinions as of the date appearing in this material only. While every effort has been made to verify the information contained herein, we make no representations as to its accuracy and it should not be regarded as a complete analysis of the subjects discussed. Past performance does not predict future results. Content should not be construed as legal or tax advice. Always consult an attorney or tax professional regarding your specific legal or tax situation. All investing involves risk, including the loss of some or all of your investment.
Certain information contained herein constitutes "forward-looking statements," which can be identified by the use of forward-looking terminology such as "may," "will," "should," expect," "anticipate," "project," "estimate," "intend," "continue," or "believe," or the negatives thereof or other variations thereon or comparable terminology. Due to various risks and uncertainties, actual events, results or actual performance may differ materially from those reflected or contemplated in such forward-looking statements. Nothing contained herein may be relied upon as a guarantee, promise, assurance or a representation as to the future. Diversification does not guarantee a profit or protection against a loss in a declining market.
Hyperlinks in this letter are provided as a convenience, and we disclaim any responsibility for information, services or products found on websites linked hereto.
Any indices and other financial benchmarks shown are provided for illustrative purposes only, are unmanaged, reflect reinvestment of income and dividends and do not reflect the impact of advisory fees. Investors cannot invest directly in an index. Comparisons to indexes have limitations because indexes have volatility and other material characteristics that may differ from a particular hedge fund. For example, a hedge fund may typically hold substantially fewer securities than are contained in an index.
The S&P 500® Index is a widely recognized, unmanaged index of 500 common stocks which are generally representative of the U.S. stock market as a whole.